Street Photography - My Daily Habit for 35 Years
Photography, like most things (music, art, literature, etc), is a wide-ranging medium, and street photography is probably one of photography's least commercial categories. Most of us do it for the pure love of observing, and capturing in pictures, our fellow human beings and their environments. I can only really speak for myself because I don't really know any other street photographers. The idea of walking down the street with a bunch of other people all pointing their cameras at the same things doesn't appeal to me. I can't hunt in packs!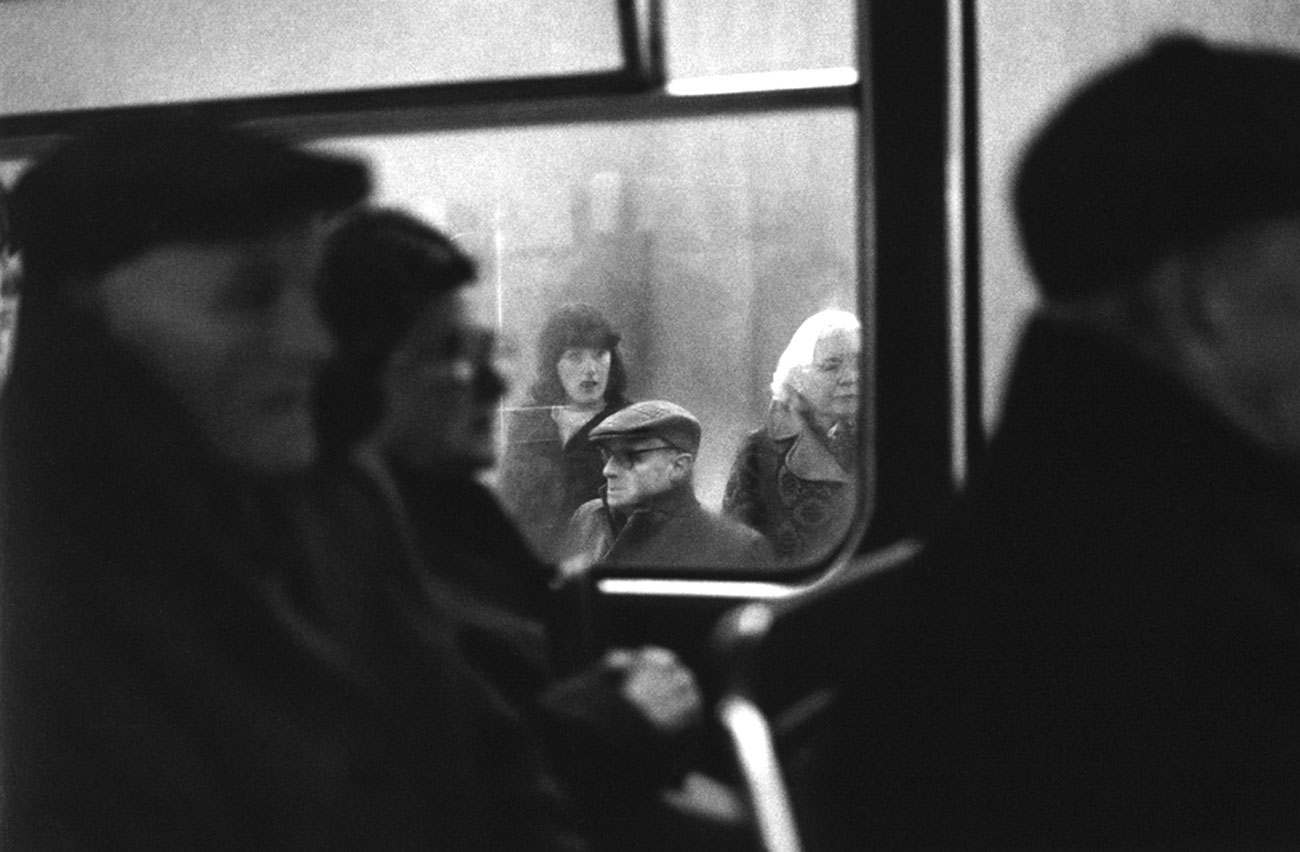 Between Wallasey and Birkenhead, 1979, by Tom Wood.
I was 17 when I first started photographing people on the streets of Liverpool and the Wirral candidly. This was around 1987. I was at art college wanting to be a graphic designer or a cartoonist, but soon changed course to photography. I still can't believe my luck that one of the greatest street photographers that has ever lived - Tom Wood - was a part-time tutor there. I didn't really appreciate until many years later how widely respected Tom was. He was just a quietly spoken, slightly mysterious and intellectual man who would come in on his bike once a week and tell me off for spending too long printing rubbish pictures in the dark rooms. Sometimes he would physically drag me out and tell me to get the ferry over to Liverpool and spend the day walking the streets instead - observing life. He said I was too young to know anything interesting about the world, so I was wasting my time trying to make great prints from my average negatives. Tom was kind enough to invite me to spend a day with him travelling around Liverpool on various buses. He was deep into his project that would go on to be exhibited around the world and published in various books such as 'All Zones Off Peak' and 'Bus Odyssey'. I was in awe of how he would go straight up to people as they were paying the driver, point his Leica in their faces and then spend the rest of the journey chatting away to them as if he'd known them all his life. There is a lot to be said for that west of Ireland charm.
After leaving college, I spent eight years working onboard various cruise ships as a photographer based mostly in the Caribbean - photographing American passengers meeting the captain, drinking cocktails, eating their tea - that kind of thing. It was hard work, seven days a week, but when we had a few hours off we were in such wonderful places as Jamaica, Mexico or Miami. My fellow crew members would all jump into taxis and head to the beaches while I headed for the back streets looking for pictures to take, armed with a limitless number of free Konica colour films that I'd 'acquired' on the ships.
I had already become an avid collector of photo books by then, and I always took a little photo book with me when I was out shooting - in case I needed some inspiration. My heroes were, and still are, amongst others, Lee Friedlander, Robert Frank, Elliott Erwitt, Andre Kertesz, Alex Webb, Sebastiao Salgado and of course, Henri Cartier-Bresson. It was only after my time on the ships that I really appreciated the wonderful work of Martin Parr because some people said I was ripping him off. Paul Graham, Chris Killip and Tony Ray-Jones have become big influences on me too. I could go on all day.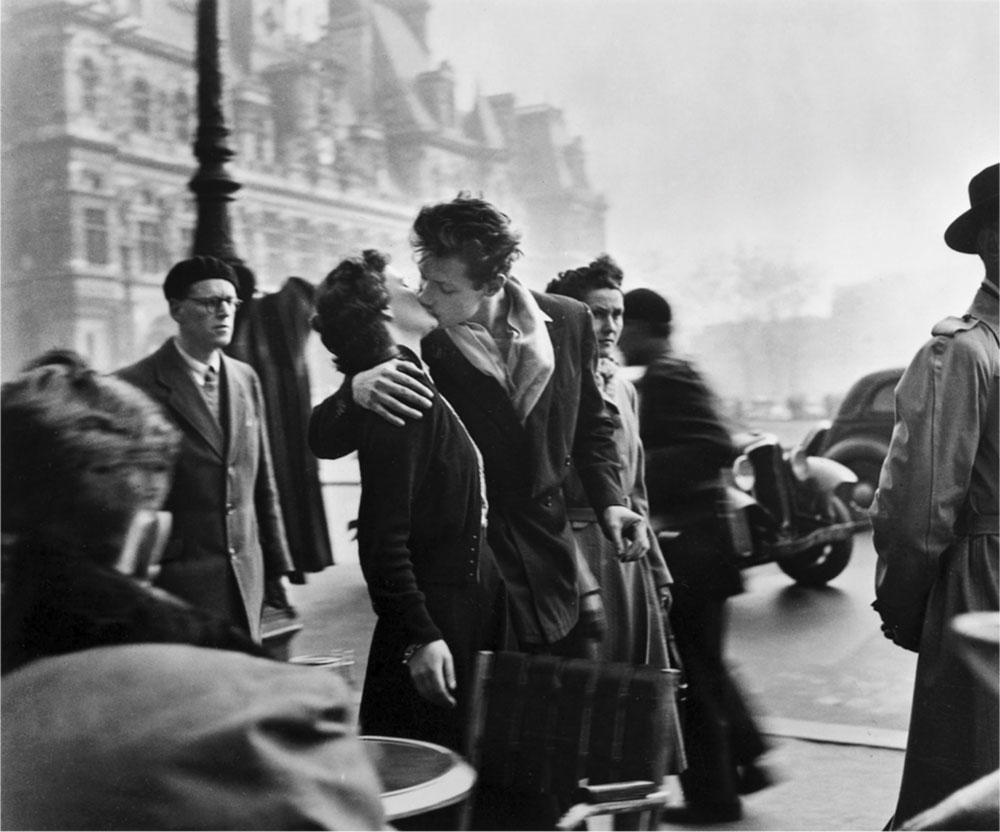 The Kiss by the Hotel de Ville, Paris, 1950, by Robert Doisneau
Many years later, when I studied Editorial Photography as a mature student at the University of Brighton (2003-2006), I was the only out and out street photographer on the course in all three years. There was a sniffy attitude from some of the tutors/intellectuals about the morality and relevance of taking candid pictures of people on the street. They much preferred conceptual/constructed photography. Their argument was largely based on the fact that a single frame can only tell part of a story, so it makes no difference if a picture was taken candidly, or if the scene was set up for the camera. They kept referring to Walker Evans's 'Documentary Style' observations. I said they should have listened to Evans when he said "Good photography is unpretentious".
I wrote my dissertation based on the great Robert Doisneau's famous 1950 photograph 'Kiss by the Hotel de Ville' where a young couple share a passionate kiss as they walk along the Parisian boulevard. It later transpired that they were paid actors taking part in an arranged photo shoot for Life magazine. I surveyed about a hundred people and asked if it matters to them or not that the picture was staged or taken directly from the flow of everyday life. Thankfully, the majority agreed with me - that it does matter. I titled the dissertation 'Betrayed by The Kiss?'. I don't blame my hero Doisneau for the uncertainty surrounding that picture. He was mostly honest about it all along. That's the main thing.
I soon realised that it wasn't just at the university where attitudes towards the relevancy of street photography were very different to my own. They represented where contemporary photography was. Most of the photography exhibitions and published work around that time, and still today, featured conceptual-based work or perfectly photographed scenes devoid of any people at all - where the most important thing is that all the verticals are straight (I call it spirit level photography). I don't mind a bit of escapism but I find it a bit strange that in this overcrowded world that most of us live in, so many photographers prefer photographing a version of the world that has no people in it. I think that it mostly comes down to a fear of taking pictures of people. They can't be bothered with the hassle of having to explain to people why they just took a picture of them. People do react very differently now to being photographed in the street than they did when Doisneau, Erwitt, Cartier-Bressson and so on were in their prime, but we can't just let the true spirit of such a fine tradition as street photography die away.
Over the last couple of decades, street photography has, in my opinion, evolved into something quite different and I don't feel a part of it. Self-appointed masters of street photography are prominent on the internet and in an endless number of books telling us what good street photography is. One of them dismissed my pictures online as "Too much shoot from the hip" without me even asking for his opinion. Not that I'm bitter. I do shoot a few from the hip but only if that is the best way to go undetected and avoid potentially changing the mood of a scene. It's the picture that matters above all else. Robert Frank did the same but Henri Cartier-Bresson could, in my opinion, be a bit too precious at times about how you should take a picture. A few of the well respected modern day street photographers are brilliant - for example Nils Jorgensen in London, Jeff Mermelstein in New York and Alexey Titarenko in St Petersburg, but my problem is that a lot of the modern day street photographers who consider themselves as really good, are not taking pictures for the right reasons. It has all become a bit too "Ooh look at me, aren't I clever?" … too smart-arsey. An over reliance on visual puns, juxtapositions and cliches. What I look for and love about street photography is capturing a facial expression, a funny interaction, a mood or an atmosphere. It's about observing and documenting the behaviours of the human race (and dogs and pigeons).
I realise that we do have to evolve a bit because these days it is difficult to capture an atmospheric or meaningful street photograph when there's cars everywhere and people interacting more with their devices than with each other, but as I said earlier, we need to keep the true spirit of street photography alive. Just have a look at the work of Tom Wood if you're not sure what I mean.
If you made it this far then thanks for reading. Please feel free to rant back at me via email - ianhughes11@hotmail.com.